FRANSCAPE
One tool to power your franchise
Franscape is packed with features that deliver for franchisors, franchisees and customers.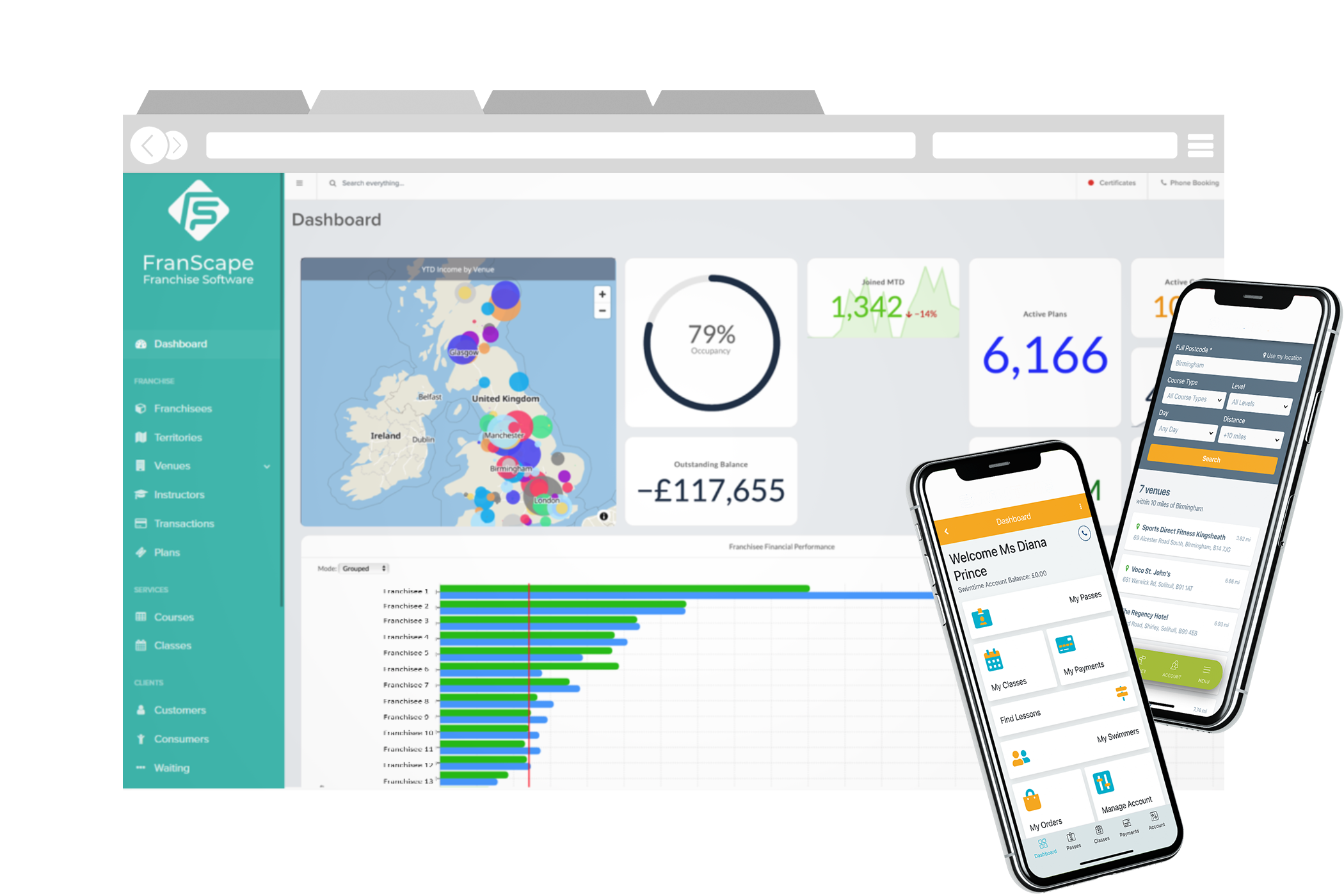 POWERFUL FEATURES
Built by Franchisors for Franchisors
FranScape is feature-rich with a wide array of cutting edge tools to help transform your Franchise network.
Run and manage any class-based business using cutting edge technology that tackles time-consuming administration.
Welcome to the future. Take your franchise fees automatically in real-time with total visibility to all. Flexible, fast and transparent.
Flexible online experience
Enable customers to book, pay and manage their relationship with your brand online in multiple ways enabling true 24/7 trading.
Embrace the future. Utilising the latest technology, FranScape automates time-consuming back-office tasks saving users time and money.
With integrated email and SMS, FranScape automates communication with clients using templates. Helping ensure Franchisees stay on brand, all the time.* charges apply for SMS
Intelligent Profitability Insights
By tracking key financial data, FranScape uses the power of technology to aid operational decisions.
Manage all your operational venues including costs, contracts, operating dates and Health and Safety. You can even subdivide venues to run multiple activities.
Manage all staff including rates of pay, hours worked, absence, registers and qualification tracking.
Take and manage multiple customer payments including pay upfront, monthly plans, offline cash payments, credits and refunds.
Enjoy powerful franchise reporting giving you real-time insights into your network. Enabling global reporting on everything from sales to staff qualifications.
Want to offer products as part of a subscription? No problem, FranScape can handle this out of the box.
A dedicated mobile-first web application shows staff their registers and allows them to see all the data they need to get the job done.
Powerful health and safety management with a full document store, email expiry alerts and extensive reporting.
Collect medical records from Customers at the point of purchase with annual reminders built in to ensure ongoing compliance with best practices.
FranScape automatically chases outstanding monies via email which is proven to be highly effective in improving cash flow.
Franchisee customers can enjoy a full customer portal enabling them to manage a wide range of common tasks themselves reducing administration, cost and improving service levels.
With 70% of users accessing the internet via a mobile device, your customers can enjoy a truly mobile-first experience to improve bookings.
FranScape has a wide range of reports from financial, staff, and location data to help you analyse your business.
Manage customers for oversubscribed services, payment details can be pre-authorised by the client allowing 'one click' acceptance.
Incentive Scheme Tracking
Does your brand award process incentives? Perhaps badges or certificates? No problem, FranScape can handle multiple incentive schemes enabling staff to mark off. BENEFITS
Award-winning transformation
Franchisee Insight

Cost Savings

Customer Satisfaction

Improved Cashflow
Get Full Visibility
Designed to give Franchisors full visibility of Franchisee activity. FranScape provides the ability to see every single transaction undertaken by your network anywhere, anytime.
Get Time Back
Be prepared to save time, lots of time. The advanced automation within FranScape slashes the time it takes to do numerous mundane tasks.
Get easy online booking
True mobile first capabilities makes clients love not just what you do, but how you do it. Enjoy online booking that is measured in seconds, not minutes, alongside a full suite of customer tools.
Get your royalties at source
By taking Franchise Fees at source you can enjoy a more regular, consistent and transparent cash flow.
How easy it is to implement FranScape?
Every client is different but the good news is this is what we do. We have onboarded tens of networks and can share heaps of information and templates to help communicate with your franchisees. All clients are supported every step of the way on this journey.
Can I customise FranScape for my network?
FranScape has a vast array of features out the box, many of which have a wide array of customisation options. On top of this the development of FranScape is based on user feedback and our own research and analysis. This means FranScape gets better and better with each passing day!
Which Franchise businesses are you suited to?
Our sweet spot is any class based Franchise business. Our clients are typically from the Children's Activity sector, however FranScape can work for some other markets. We recommend you get in touch with us so we can discuss your specific requirements.
What do I get from Franscape?
We provide all customers with:

1. A Finder - this is embedded on your website and is what Customers use to Book and Pay for your Services.
2. A 'My Account' Portal - this is also embedded on your website and is where Customers come to see their order history, update details and can make payments.
3. FranScape - a version of FranScape is provided for you both you as a Franchisor and to each of your Franchisees to manage your Brand.
What do I need to make FranScape work?
FranScape is the super power that is behind numerous brands. However, like all great products, it needs support. Think of it like this, to make a great meal you need fantastic ingredients, the right tools and a great recipe. If just one of those 3 elements is missing, the end product will not be as good as it could be. FranScape is no different, to enjoy the best results we strongly recommend:
1. A great website
2. A knowledge base - this is a place customers can come to get help and support
3. FranScape
FRANSCAPE
One tool to power your franchise